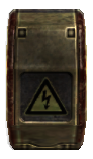 The Energy Pal S.3 is a high performance rechargeable lithium-sulphur pack manufactured by Haimatsu and used to power equipment supplied by them such as Machine tools, XO-rigs, and power suits.
In-game
At Omicron, Simon Jarrett takes an Energy Pal from a charging station to use it in order to power up a Power Suit. Later at Phi, Simon has to continuously move an Energy Pal to different panels in order to power several compartments on the lower level.
Gallery
Ad blocker interference detected!
Wikia is a free-to-use site that makes money from advertising. We have a modified experience for viewers using ad blockers

Wikia is not accessible if you've made further modifications. Remove the custom ad blocker rule(s) and the page will load as expected.